We can say that every company has their own philosophy. Sometimes it's just strict, and sometimes it's just open. But about our philosophy, we are strict about being open and vice versa. Every day we feel the advantages and values of that philosophy, and so do our customers. These values are natural for us, but maybe you have some questions about what makes us Person(al). Now, you'll get the answers.
Are your minds like parachutes?
Yeah, we think our minds function better when they are open. For us, open-minded is not just a fancy term. We are continuously monitoring new trends and customer needs. Our services often extend beyond the usage of standard tools and practices. We are not afraid of using unconventional solutions to deliver the most suitable ones to our clients. Our business divisions work closely together to develop successful integrated, regional campaigns. We have worked on several regional projects and we seek out opportunities to develop campaigns that can be successful on a regional level.
Are we capitalists?
Hell, yes! Our clients' success is the most important for us; therefore, we always question the status quo. Here's the essence of our business approach: If our clients are successful, then they have the resources for our services. This leads to long-term satisfaction for both sides. We are a full-service agency; customers can count on our three divisions of experts in the following fields: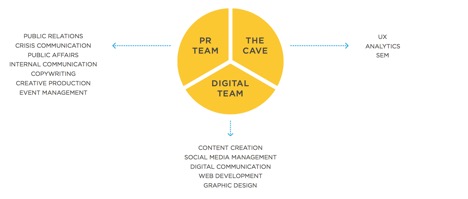 If time is money, is an ATM a time machine?
OK, it's not the best joke ever, but seriously, time is money – everyone knows that. But for us, it's a credo. We have a transparent working process and agile project management. And transparency can save money as well! To manage our resources efficiently, and to operate cost-effectively for clients, we use project management software to organise workflow (Podio), and a time-tracking software (TimeCamp). We specify KPIs to the strategy, always monitoring and optimising the workflow and resources to achieve the best possible outcome.
Do you guys always do everything well?
Of course not. They say that the worst mistake anyone can make is being too afraid to make one. For us, pilot projects are the best way to try out new things. We devote a lot of time to testing new hypotheses. Afterwards, we draw conclusions and learn from them, even if the project was a failure the first time around.
We love challenges. We love our clients. We want our clients to love working with us as well.
Do you have any further questions? Go ahead, ask away! You can find us on Facebook or on Instagram too.